You know that old chestnut that if you want something done you should ask a busy person? Well, it will come as no suprise that this has been a very busy month for me. Which of course means that this is the first time I've ever managed to complete my entry for a
patternreview.com contest
.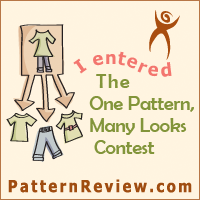 The first contest of the year is the One Pattern, Many Looks contest which challenges entrants to create multiple looks by making minor (non-structural) changes to a single pattern. These alterations could include changes to the neckline or hem length as well as choices of fabric and trims.
I used view C of
Butterick 4343
, a close-fitting, princess-seamed, lined, tapered sheath dress. I chose this pattern for two reasons: 1) I find that princess seams are nearly always a figure-flattering (read, slimming) option for the curvier figure and 2) I
live
in sheath dresses. My work wardrobe largely consists of solid color dresses, cardigans, and chunky jewelry worn in a variety of combinations so sewing additional sheaths was a practical decision.
I began by altering the pattern for fit. I cut standard 18 and then not only made a full bust alteration, but also made what I will call a "full derriere" alteration using the same slash and spread technique. This provided a much better fit than I could have otherwise achieved. While my actual numerical measurements would put me in a 22 according to the pattern envelope, my high bust measurement puts me in an 18 which leads to a much better fit through the shoulders and neckline. Even then I usually have to reduce the width of the back by a significant margin as my figure is not particularly wide. Lately I've been finding I have a similar issue on the bottom in that if I just grade the pattern up to the 22 the front will be too wide for my hips while the backside strains over my backside. This is not only unflattering, but it means the seams don't fall straight and I also wind up with weird unfilled pockets of empty space on the hips making my hips look wider than they actually are.
(As an aside, I find that sewing is an excellent way to not only become aware of your own bodies quirks but also to learn to accept them. When I bought clothes off the rack I always assumed I had wide hips because clothing that otherwise fit always seemed awkwardly tight in that region. Plus, women are always complaining about thier hips so obviously mine must be a "problem area." However I've realized that my hips are actually proportional, I just have six extra inches of junk in the trunk. Nobody wants to be "pear shaped" but everyone likes some Beyonce booty!)
As you can see from the pictures below, my altreations changed the pattern fairly significantly. These photo show the original pattern placed overtop my altered pattern which I cut out of brown butcher paper.
The first dress I made with this altered pattern used not only the original neckline, but also the color scheme from the pattern envelope. (And as always, please remember that I'm larger than the dress form so you hae to imagine the bust filled out a bit more...)
I then made a version in a ponte knit. I used navy for the front and back and black on the side panels. I also added tabs to the shoulders and waist which I accented with gold buttons for a bit of nautical flair. In all honesty, I think this is my least favorite version, in large part because it's too big. I used wider seam allowances thinking that would make up for the somewhat minimal stretch in the knit but it's still too large. This dress is, however, super comfortable. So while it may not have a tailored feel I prefer for work, it would be perfect with boots and a slouchy cardigan for running weekend errands.
The third version of the dress is a purple wool crepe. For this version I lengthened the hem to right at the knee and lowered the neckline.
For the final version of my dress, I lowered the hem to just below the knee, about 8 inches longer than the pattern is drafted. I kept the original high neck, but added low, deep pockets to the side panels. I'm actually wearing this dress today! This version is made from some sort of poly blend suiting that I picked up at Joanns ages ago with the intent to make trousers.
So there you have it... several different looks from the same simple pattern!